Burlington Reaches Production Milestone of 1 Million Yards for Army Green Service Uniforms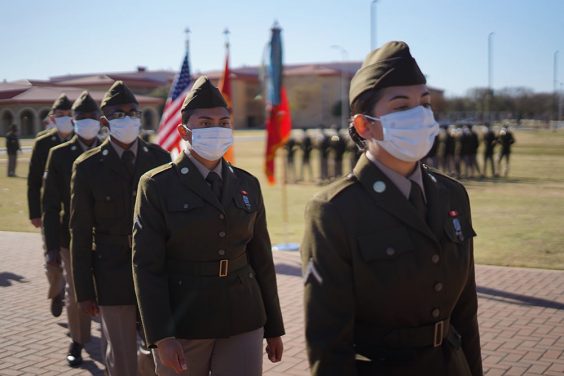 Greensboro, NC – Burlington Industries LLC, a division of Elevate Textiles, is excited to report the production of over one million yards of fabric for the new Army Green Service Uniforms. The one million yards of fabric is equivalent to about 200,000 jackets, 115,000 hats and belts, 320,000 pants and 195,000 ties—nearly 575 miles of fabric. If laid end to end, this amount would stretch from Burlington's divisional headquarters in Greensboro, North Carolina to New York City.
Burlington is proud to be an integral part of the United States Military defense supply chain for more than 55 years. The development of the new, worsted wool blended Army Green Service Uniform fabric has been in progress for over two years and includes partnerships with garment producer Fechheimer, the Defense Logistics Agency Troop Support Philadelphia (DLA), the United States Army and several private industry partners. In line with Burlington tradition, the process remains focused toward serving those in the United States Armed Forces. These new fabrics allow their wearers the confidence to perform at their best while experiencing unmatched comfort and durability. These fabrics are produced at the company's facilities in Raeford and Cordova, North Carolina out of 100% American-made yarns.
"Burlington is thrilled to have reached the milestone of producing over one million yards of the new Army Green fabric, and we continue to be honored to serve the men and women of the U.S. Military with a dedication to quality and innovation. The worsted wool fabrics of our Raeford operation and brand consistently provide soldiers with comfort, durability, wrinkle resistance and color capability unlike any other," said Joey Underwood, President of Burlington and Safety Components.
Since 1923, Burlington has been a global textile leader with core competencies in worsted wool and performance synthetics, and inherent FR fabrics. Offering a diverse range of vertical manufacturing capabilities and numerous fiber and fabric blends, Burlington® Military is proud to provide quality fabrics for United States Military personnel. Through innovation, Burlington's in-house Research and Development department, Burlington Labs®, engineers advanced fabrications and technical finishes that are applied to protect and enhance performance while providing troops protection, easy-care and superior comfort in all of their diverse environments. Burlington Military combines the resources from the Burlington and Safety Components business units to create an extensive military products platform of diversified fabrics developed to service the specific needs of the military market.
About the Army Green Service Uniform
Commonly referred to as "pinks and greens," the new uniform is inspired by the iconic World War II era uniforms. These uniforms began rolling out to Recruit Training Centers in 2020 and will continue to be fielded through 2028. The current Army Service Uniform, known as ASU or Army Blue, will continue to be the formal dress uniform and the fabrics for ASU are also produced at our Raeford Facility.
About Burlington
Celebrating over 95 years of textile leadership, Burlington is a global diversified provider of textile solutions across performance & specialty apparel fabrics, active wear, advanced uniform fabrics and technical fabrics. Burlington operates as part of Elevate Textiles, Inc. with worldwide operations in the United States, Mexico and China. To learn more visit www.burlingtonfabrics.com; www.elevatetextiles.com or follow us at @burlington1923 and on LinkedIn.
About Elevate Textiles
Elevate Textiles is a collection of distinguished global textile brands including American & Efird, Burlington, Cone Denim, Gütermann and Safety Components. With a global array of premium fabric and thread solutions focused on innovation, sustainability and quality craftsmanship, Elevate and its portfolio brands provide products that surround us every day and in all facets of life. We offer advanced, high quality products and mission critical textile solutions across vast industries including fashion and functional apparel, footwear, military, fire, medical, athletic, automotive, aerospace, outdoor, and other specialty sectors. Elevate is committed to delivering solutions that protect and enhance our lives through its global manufacturing platform. To learn more about Elevate Textiles and our brands, visit elevatetextiles.com and follow us on LinkedIn.
Image Credit: U.S. Army Fort Sill