Elevate Textiles Expands Services in Vietnam with 28th State-of-the-Art Thread Manufacturing Operation
New facility provides A&E division additional support for apparel and non-apparel sewn product manufacturers in Vietnam, Cambodia, and Laos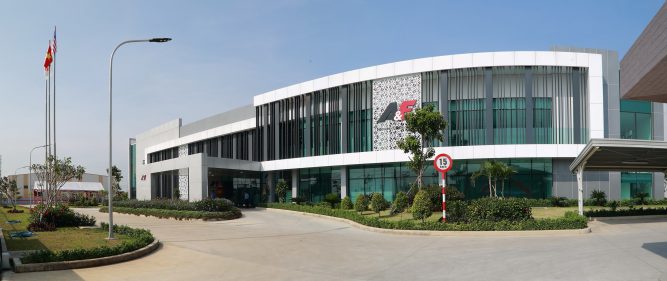 DONG NAI PROVINCE, VIETNAM – In pursuit of its goal to be the preferred global supplier of industrial sewing thread, embroidery thread, and technical textiles, Elevate Textiles and its portfolio brand American & Efird (A&E) celebrate the completion of its 28th global manufacturing facility in the Dong Nai Province of Vietnam.  Grand opening ceremonies were held on October 2, 2019 at the new site.
Strategically positioned to provide expanded services and regional support for apparel, footwear, handbags, and other sewn products in Vietnam, Cambodia, and Laos, A&E's newest manufacturing site supports its commitment to produce premium quality thread products in the most sustainable manner. This new site aligns the company with the tremendous growth of the sewn products industry in this region and provides the ability for future expansion.
"Vietnam is a strategic country for the textile and sewn products industry," said Per-Olof Loof, CEO of Elevate Textiles in his Ceremony remarks.  "As the second largest exporter of apparel to the U.S. and one of the largest global producers of apparel and non-apparel sewn products, Vietnam provides a strategic platform to build and operate A&E's newest manufacturing plant, expanding our customer's access to high-quality, sustainably produced A&E products."
The new state-of-the-art facility is conveniently located in Nhon Trach Industrial Park 6, Dong Nai Province, South Vietnam, A&E's newest state-of-the-art expansion is 37 km from Cat Lai port, 50 km away from Tan Son Nhat airport in Ho Chi Minh City and less than 20 km away from Long Thanh Airport.
Construction of A&E's Vietnam facility began in June of 2018 and was completed and operational on June 1, 2019, adding more than 150 new jobs to the region.
Well known for its leadership role in innovation, product quality, and sustainability, A&E supports many of the world's top industrial and consumer brands with thread products that require strict quality and integrity.
At the end of September, A&E introduced its 100% recycled sewing thread line, ECO100 to the textile market. Information on these new sustainable industrial sewing threads is available on A&E's website – amefird.com/expectmore.
Media: Materials and images are available via download.
ABOUT AMERICAN & EFIRD
A&E, a portfolio company of Elevate Textiles, is the foremost manufacturer and distributor of premium quality industrial and consumer sewing thread, embroidery thread and technical textiles. Producers of apparel, automotive components, home furnishings, medical supplies, footwear and a diverse range of industrial products rely on A&E industrial sewing thread to manufacture their products. Customers select A&E as the preferred choice for industrial sewing thread, embroidery thread and technical textiles because of A&E's dedication to providing its customers with the finest products and services, at the highest quality, delivered globally. Through its global network, A&E's products are manufactured in 22 countries, distributed in 50 countries and sold in over 100 countries. In addition to A&E's steadfast commitment to superior quality and customer service, A&E is a recognized industry leader in environmental sustainability and corporate social responsibility, and operates its global facilities with the utmost regard for the safety and health of its associates employed worldwide. A&E owns or operates 28 manufacturing facilities and employs over 10,000 associates around the world directly or in partnership with joint venture partners.
ABOUT ELEVATE TEXTILES
With a global array of premium fabric and thread solutions focused on innovation, sustainability and quality craftsmanship, Elevate Textiles provides products that surround us every day and in all facets of life. We offer advanced, high quality products and mission critical textile solutions across vast industries including fashion and functional apparel, footwear, military, fire, medical, athletic, automotive, aerospace, outdoor, and other specialty sectors. Elevate Textiles is committed to delivering solutions that protect and enhance our lives through its global manufacturing platform that includes 38 facilities and over 15,000 employees. Elevate Textiles, a portfolio company of Platinum Equity, offers distinguished global textile brands including American & Efird, Burlington, Cone Denim, Gütermann and Safety Components. To learn more about Elevate Textiles and our brands, visit elevatetextiles.com.