Cone Denim Introduces Newest Community Collection Fabric
Supporting Efforts to End the Global Water Crisis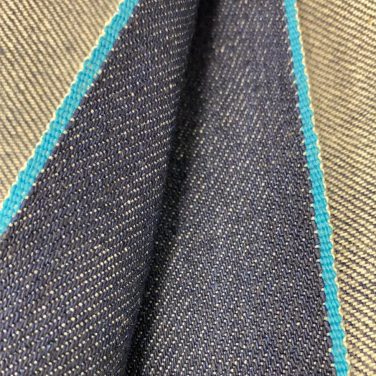 Greensboro, NC – Cone Denim®, a global leader in denim authenticity and sustainable innovation, is proud to launch its newest Cone Community Collection fabric in support of efforts to end the global water crisis and increase access to clean water around the world. Cone will donate a portion of proceeds from the sale of its water-inspired Clean Water selvage denim to Water.org, an international nonprofit organization that has positively transformed millions of lives around the world with access to safe water and sanitation.
"Access to clean, potable water should be a basic human right and Cone is excited to introduce its newest Cone Community denim designed to help bring more awareness to this global crisis," said Steve Maggard, President Cone Denim. "Water is a precious resource and Cone remains committed to responsible water hygiene and conservation efforts.  I am excited by our team's efforts to drive sustainable innovation and produce denim in a way that uses less water and fewer chemicals, minimizing environmental impact and returning cleaner water back into the environment."
Featuring a teal selvage I.d. for water conservation awareness, Cone's Clean Water denim is made from OCS-certified 100% organic cotton with comfort stretch and dyed using Distilled Indigo, the cleanest on the market and part of Cone's eco-friendly dye technologies.  Sustainability and conservation remain a core focus that drives Cone's development and production of new denims with significant reductions in water consumption, chemicals and energy used throughout the process.
Maggard continued, "Our Cone Community Collection denims are fueled by the spirit of collaboration.  From passionate discussions across our design team, to partnerships with our sister brand American & Efird to supply the teal I.d. yarn to selecting Water.org to receive donations from the sale of our Clean Water denim, our goal is to inspire and empower people through dialogue, collaboration and action to raise awareness for key social issues."
Water.org is an international nonprofit organization that has positively transformed millions of lives around the world by providing families access to safe water and sanitation. Founded by Gary White and Matt Damon, the organization has pioneered market-driven financial solutions to the global water crisis for over 25 years.
Many countries do not have access to safe water, resulting in many diseases and deaths amongst those living in underprivileged parts of the world.   785 million people – about 1 in 9 – lack access to safe water and, tragically, nearly 1 million people die each year from water, sanitation or hygiene-related issues.
Cone's Clean Water denim was recently launched as part of Cone Denim's Spring/Summer '22 collection. Visit conedenim.com to learn more about Cone's newest Collections.
About Cone Denim
A leading denim innovator for more than 128 years, Cone Denim delivers unparalleled expertise and advanced denim capabilities that service and inspire the global market. Cone promotes sustainable practices through its SustainblueTM denim fabrics representing the highest standards in responsible manufacturing and Cone's commitment to making a positive impact in its communities. From performance denims and superior S GENE® technology to vintage re-creations of Cone Deeptone DenimTM reaching back to the early 1900s, Cone offers unique collections of Performance, Stretch, Selvage, and Distilled IndigoTM  denims crafted out of the Cone®3D R&D incubator. Cone Denim operates as part of Elevate Textiles, Inc. with manufacturing capabilities in Mexico and China and a global network of sales, product and merchandising professionals based out of Greensboro, NC, New York, San Francisco and Hong Kong. To learn more, visit us at conedenim.com, LinkedIn, Instagram, and Facebook or elevatetextiles.com.
About Elevate Textiles
Elevate Textiles offers distinguished global textile brands including American & Efird, Burlington, Cone Denim, Gütermann and Safety Components. With a global array of premium fabric and thread solutions focused on innovation, sustainability and quality craftsmanship, Elevate and its portfolio brands provide products that surround us every day and in all facets of life. We offer advanced, high quality products and mission critical textile solutions across vast industries including fashion and functional apparel, footwear, military, fire, medical, athletic, automotive, aerospace, outdoor, and other specialty sectors. Elevate is committed to delivering solutions that protect and enhance our lives through its global manufacturing platform. To learn more about Elevate Textiles and our brands, visit elevatetextiles.com and follow us on LinkedIn.