Carlisle Cotton Fabrics at Summer OR
Innovation and performance like you've never seen on cotton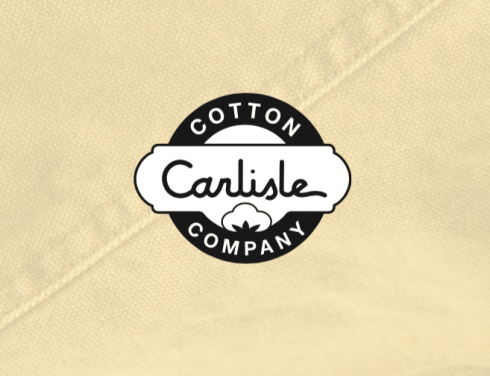 Greensboro, NC — Elevate Textiles continues to expand its fabric offerings with the Carlisle Cotton Collection available at the Outdoor Retailer Summer Show July 23 – 26 in Denver (Burlington Booth MR #204 or Cone Denim Booth #23110-SL).  These exciting new styles offer an array of innovative luxury and performance cotton fabrics. Combining the heritage and expertise of Cone Denim® and Burlington®, the Carlisle Cotton collection brings a unique blend of color, comfort and performance innovations to create a new generation of cotton fashions that are versatile from fashion shirtings to bottom-weights for jeanswear, uniforms and rugged casual styles.
Carlisle Cotton fabrics are made in the Americas and named after the Carlisle Finishing plant where they are dyed and finished.  Located in Carlisle, South Carolina and surrounded by the Sumter National Forest, Carlisle has been a leader in dyeing and printing for more than 60 years.
"The Carlisle Cotton collection is very exciting and offers new possibilities for cotton," says Dennis Gilrain, Sr. Vice President Burlington Apparel & Uniform.  "We've been able to combine the R&D expertise of Burlington and Cone Denim to bring new styling and innovation to cotton and cotton blended fabrics.  By customizing these technologies and their applications we are able to create unique performance and aesthetics in cotton that provide built-in easy care, durability, comfort and fashion."
Carlisle's newest edition is called Landscape, a collection of carbonized brushed Sulphur dyed fabrics that are designed to achieve a soft washed-down worn look after garments are processed with a simple garment wash.  Carlisle Cottons are designed to deliver unlimited color options with a broad range of dyeing capabilities that maintain their color fastness through repeat launderings.  Using state of the art brushing technology, these fabrics have a soft hand and added stretch for mobility and ultimate comfort whether made for fashion-forward bottoms, jeanswear, performance chino or durable uniforms.
Carlisle Cotton fabrics are versatile and come in many different constructions and finishes ranging from heavy-weight ducks, twills and canvases that are durable yet comfortable all the way to luxury brushed-cotton spandex blends and sulfur and pigment piece dye fashions that appeal to the jeanswear customer.  Additional styles are offered for lightweight, breathable uniform fabrics and brushed, no-wrinkle cotton twills and shirtings for everyday wear.
Carlisle Cotton fabrics are available for immediate sampling.  Contact your Cone Denim or Burlington sales representative or visit us at www.carlislecottoncompany.com.
About Carlisle Cotton
The Carlisle Cotton Company is uniquely positioned to create leading fashion and performance cottons for jeanswear, rugged casual wear, uniform and everyday apparel.  Made in the Americas, Carlisle Cottons are dyed and finished at the Carlisle Finishing Plant in Carlisle, SC, one of the most modern printing and finishing facilities in the textile industry.  Offering continuous range dyeing, printing and finishing services, Carlisle has more than 60 years of manufacturing and technical expertise to process various fabrics from cotton, polyester, poly/cotton, nylon/cotton, acrylic and aramid blends. To learn more visit www.carlislecottoncompany.com.