Burlington Launches Raeflex™ Performance
The Next Generation in Worsted Spun Merino Wool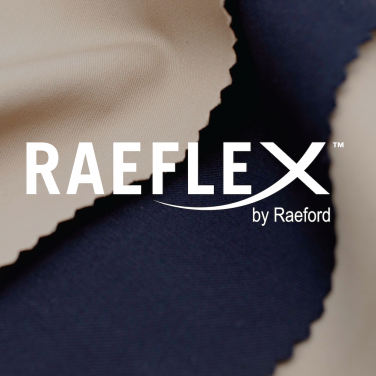 Greensboro, NC – Raeford Uniform Fabrics, a division of Burlington Industries LLC, and part of Elevate Textiles, is proud to announce the launch of Raeflex™ fabrics, the next generation of performance fabrics engineered for the uniform market. Taking performance wool to a new level, Raeflex™ fabrics offer advanced stretch and the ability to matrix durable technical finishes not previously available in the dress uniform market.
Raeflex™ fabrics are designed to keep up with the increasing demands of workers in both the public safety and career apparel markets. It combines enhanced stretch yarns with the blended worsted spun Merino Wool yarns that Raeford Uniforms is known for as the most trusted provider of dress fabric in the United States. With 200 to 400 percent more stretch than traditional uniform fabrics, Raeflex fabrics offer a solution for garments that allow for maximum movement and with the same required professional appearance. Additionally, Raeflex™ fabrics include Burlington Lab's proprietary Moisture Control System® (MCS®) for advanced wicking and moisture management creating a fabric with superior comfort that matches the rigorous demands of the uniform market.
Raeflex™ fabrics expand Raeford's current uniform products and will be primarily produced at the company's Casimires Plant, which is located in Yecapixtla, Morelos, Mexico.
"We are proud to announce the addition of Raeflex™ to our uniform fabrics line," says Allen Smith, President of Burlington, Safety Components & A&E Americas. "This product was developed based on evaluating user experiences, assessing techniques and technologies from other industries and then bringing it to fruition for the hardest working members of our communities."
Smith added, "Being a part of an organization like Elevate Textiles allows us an unprecedented advantage to combine resources and leverage some of the best minds in the textile industry to push the boundaries of what fabric can do."
Since 1923, Burlington has been a global textile leader with core competencies in worsted wool and performance synthetics and has been a leading supplier to the public safety and career apparel market for more than 55 years. Raeford Uniform Fabrics, as a component of Burlington's Pro-Grade division, is proud to provide quality fabrics that have set the standard for these markets. Through innovation, Burlington's in-house R&D incubator, Burlington Labs®, engineers advance fabrications and technical finishes that are applied to protect and enhance performance while providing protection, easy-care, and comfort in diverse environments.
Burlington® Pro-Grade leverages the expertise of our divisions to bring you the best in professional grade fabrics. Whether you are looking for Public Safety Uniforms, Government Worsteds, FR Workwear or anything in between, Pro-Grade expands on the quality and service of the Uniform, Military Solutions, and Carlisle Workwear divisions to meet your exact specifications.
Raeflex™ is set to challenge preconceived notions about what a dress uniform can be.
Interested in wear-testing Raeflex™ for your agency?
Contact Griffin Jones for more information: 336-379-2696 or email griffin.jones@elevatetextiles.com.
For more information about Raeflex™, Burlington Pro-Grade, and Raeford Uniform Fabrics visit us at burlingtonfabrics.com or see us at the Shot Show Supplier Showcase, January 20-21, #51432. Come explore our many fabric offerings and discover what our fabrics can do for you.
About Burlington Celebrating over 95 years of textile leadership, Burlington is a global diversified provider of textile solutions across performance & specialty apparel fabrics, active wear, advanced uniform fabrics, and technical fabrics. Burlington operates as part of Elevate Textiles, Inc. and includes worldwide operations in the United States, Mexico, and China. Elevate Textiles' business units include: American & Efird, Burlington, Cone Denim, Carlisle, Gütterman, and Safety Components. To learn more visit www.burlingtonfabrics.com; www.elevatetextiles.com or follow us at @burlington1923.